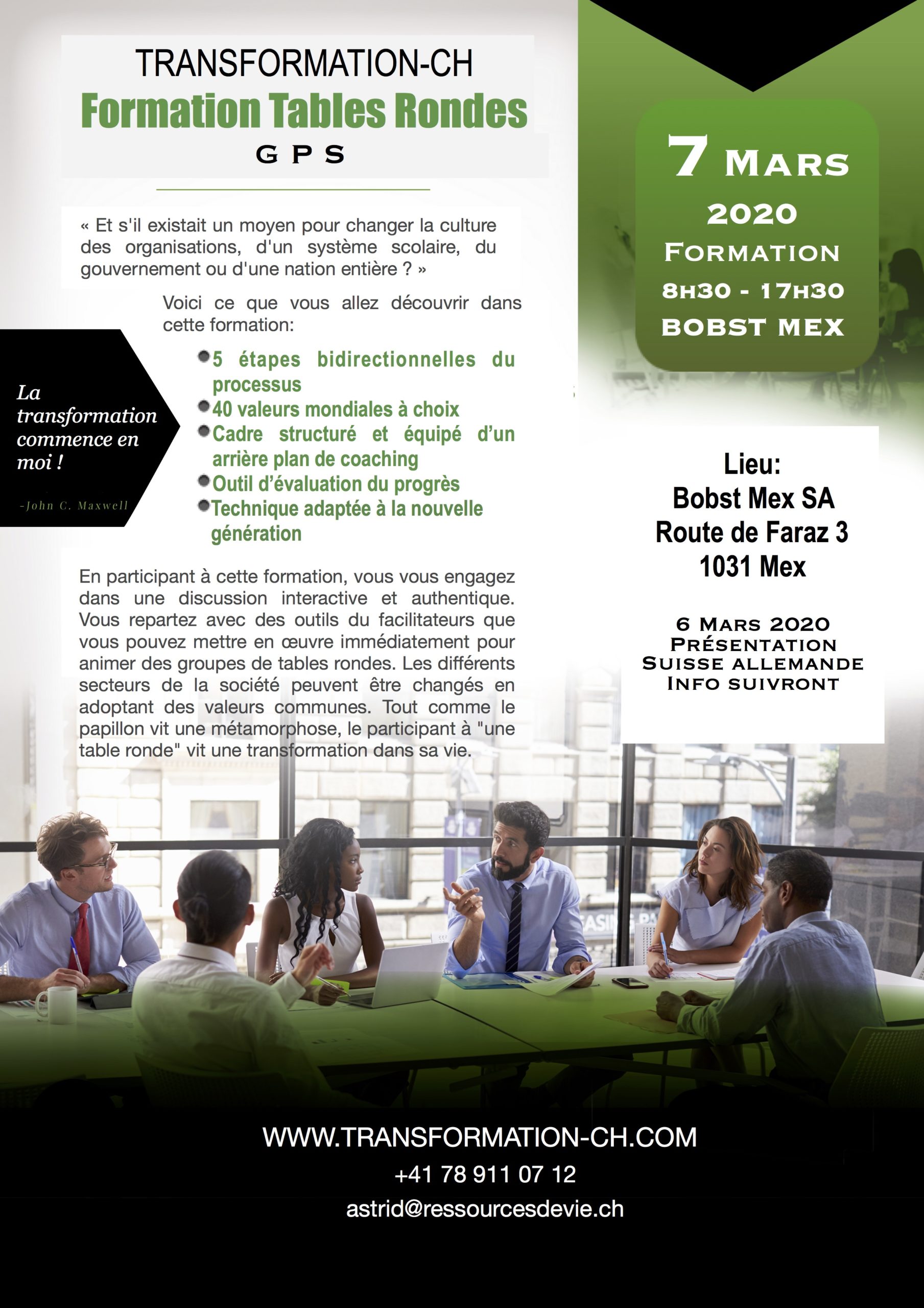 FORMATION TABLE RONDE GPS
Formateurs
Global Priority Specialistes et John Maxwell Team
Formation de base
pour facilitateur de Table Ronde GPS
pour l'AFRIQUE
  20 oct. 2020 07:00 PM
  27 oct. 2020 07:00 PM
   3 nov. 2020 07:00 PM
   10 nov. 2020 07:00 PM 2020
Formation avancée pour facilitateur de Table Ronde GPS
1 er décembre 2020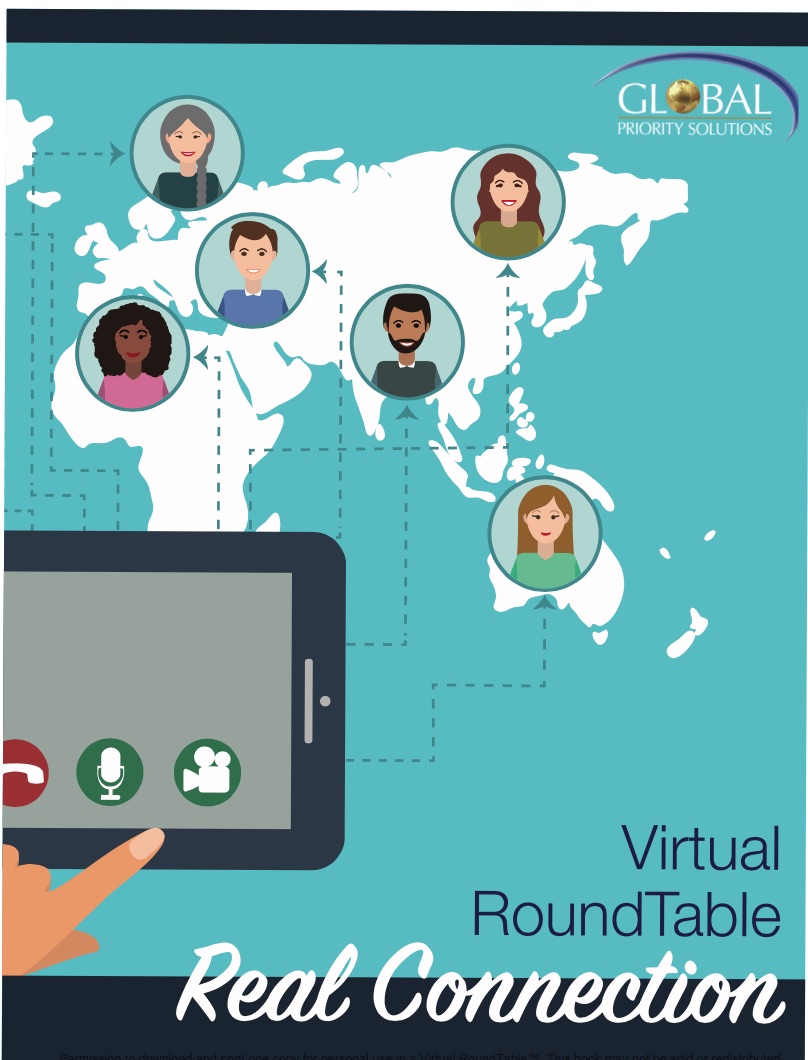 OFFRE EXCEPTIONNELLE
TABLE RONDE VIRTUELLE OFFERT GRATUITEMENT!
Cette TableRonde virtuelle « Meilleure connexion » vous permet de découvrir 6 valeurs de la méthodologie éprouvée GPS
A travers 6 rencontres virtuelles, nous allons découvrir cette méthodologie qui permet des prises de consciences, favorise la connexion en s'alignant sur des mêmes valeurs, encourage la croissance personnelle et surtout, la transmission de l'espérance autour de vous.
Nous avons spécifiquement choisi ces 6 valeurs pour cette période charnière de l'histoire: Connexion, Ecoute, Maîtrise de soi, Estime de soi, Pardon, Espérance.
Notre souhait est que ce matériel vous sert pour communiquer et établir des liens avec votre famille, vos amis et vos associés d'affaires à un niveau de coeur qui révèle et fait ressortir le meilleur de chacun. Nous avons expérimenté ces TablesRondes™ virtuelles et nous vous invitons à en profiter dans ces temps où nous gardons nos distances physiques, pour engendrer un rapprochement de coeur au travers d'une dimension humaine nouvelle et transformatrice.
Dates: 17, 24 avril 1, 8, 15, 22 mai 2020 de 18h – 19h (Vous pouvez vous inscrire soit pour une rencontre découverte ou pour les 6 rencontres)
FREE OFFRE

Today I am pleased to announce an exceptional offer for these times of global uncertainty and social distancing. You can join a virtual RoundTable for free!
We have specifically chosen 6 values for this pivotal time in history: Connection, Listening, Restraint, Self-Esteem, Forgiveness, Hope
Each one of us plays an important role in the development of ourselves, our families and our communities. When difficulties arise, doing the right thing, making the tough call, and shining the light of hope and possibility are what create strong leaders and plant the seeds of promise for a better future.
Our earnest desire is that you will use this material to communicate and connect with family, friends and business associates at a heart level that both reveals and brings out the best in each member of the group. The RoundTables™ are a proven methodology of two-way communication where people are transparent, self-revelation is experienced and people grow closer as they grow together. They can be done in person or virtually through your phone or webcam. As a team, we have been a part of many amazing and beautiful virtual RoundTables™ and challenge you to use this time where we are keeping our physical distance to connect at a deeper level.
It is time to extend compassion, lead by example, walk in wisdom, doubt our fears and believe in our faith. There is a difference only you can make.
We are in this together.
Join this RoundTable experience and discover transformation!
More informations: www.transformation-ch.com
Voici les archives des précédents événements.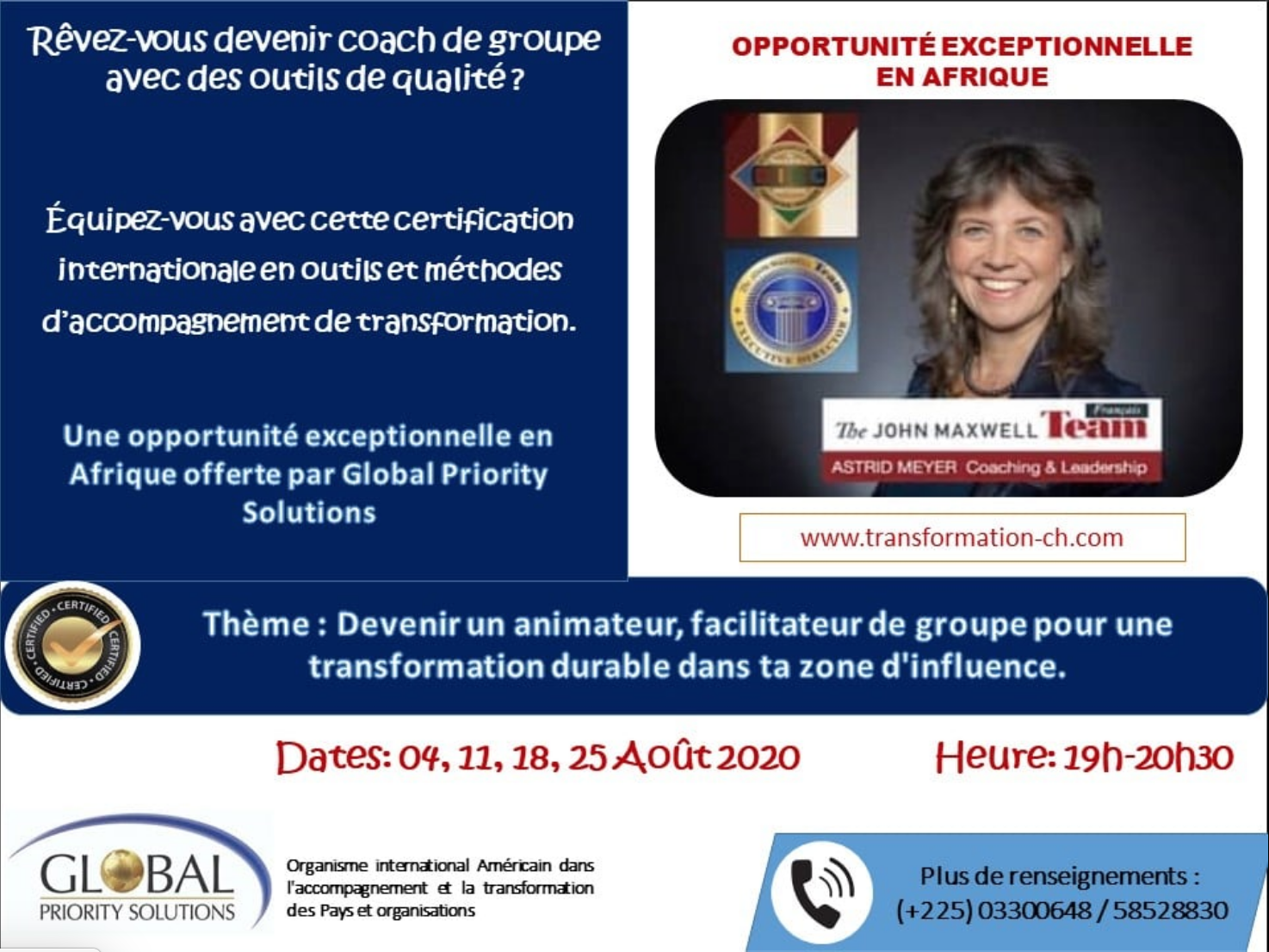 Formation de base
pour facilitateur de Table Ronde GPS
pour l'AFRIQUE
4, 11, 19, 26 août 2020